M. Forbes: Beattie And His Friends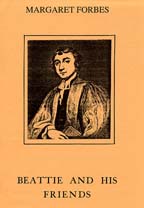 Price GBP £10-00
Though James Beattie (1735-1803) was not a philosopher of the first rank, he was a prominent figure in the Scottish Enlightenment, mainly by virtue of his Essay on Truth (1770) - a popular exposition of 'Common Sense Philosophy' which was scathingly critical of Hume and his predecessors and phenomenally successful in its time. Beattie held the chair of moral philosophy at Marischal College Aberdeen from 1760 until 1797 and also enjoyed some reputation as a poet. This standard biography was written by his great-grand-niece, who inherited his papers. From these she compiled a more complete account of his life than the one by Sir William Forbes published in 1806 . It is here reprinted with slightly enlarged typeface from the 1904 edition. It also includes a full colour frontispiece of the allegorical portrait by Sir Joshua Reynolds.
viii + 332 pages (demy 8vo), bound in good cloth
ISBN 0 9512594 3 1
Reviews
...Margaret Forbes's is the best biography we have and, realistically, I suppose it is the best we shall ever get. It is good to have it available again in this attractive reproduction.
Roger Robinson in The Charles Lamb Bullet