JMSCD10 - Afrika Hymnus by Stefans Grové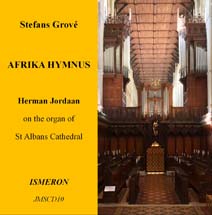 First Complete Recording
Price GBP £13-50

The distinguished South African composer Stefans Grové (1922-2014) wrote the tripartite Afrika Hymnus between 1991 and 2008. Its eleven movements make it the most expansive concert work for solo organ by any African composer. This is the first complete recording. Herman Jordaan was a pupil of the composer at the University of Pretoria and has studied the work in depth. He has won several international prizes, including First Prize at the prestigious St Albans International Organ Festival in the UK in 2003. The 20 page booklet includes photos of the composer, the organist, and the organ and a long note by Herman Jordaan on the work performed.
Track Listing




Afrika Hymnus I



1.
1. Hail Africa, Mysterious Continent

16:08
2.

2. Song of an Old Woman in her Hut at Dawn

6:32
3.
8:06




4.
1. Double Scene: Young Women Dancing; Drumming with Hand-Clapping

4:46
5.
2. Afrika Madonna
7:28
6.
3. Vuka!
3:50
7.
4. Before my Open Window: the Infinite Night
7:01
8.
5. The Singer of Praise
7:20




9.
1. Circle Dance around the Sacrificial Flame
3:32
10.
2. Voices from the Darkness
9:48

11.

3. Liberation

3:58
Excerpt from Double Scene (1' 30")
Excerpt from Vuka (1' 14")
Reviews
…an impressive and original work. It benefits from its descriptive elements not being too literal – subtlety of expression is at its heart, and it employs some very effective playing and registrational techniques to achieve this. Herman's playing is outstanding.
Grové's student Herman Jordaan makes vivid and persuasive use of St Albans Cathedral's Harrison & Harrison organ in a valuable addition to the catalogue.
**** Michael Quinn (
Choir and Organ, July / August 2023
)
Herman Jordaan….delivers the music with lucidity, sensitivity, and commitment: and the St Albans organ has the clarity of speech and variety of timbre that it demands. A sometimes challenging but welcome discovery.
Chris Maxim (Organists' Review)