J. Martin Stafford: Herbert Spencer - a Bicentenary Tribute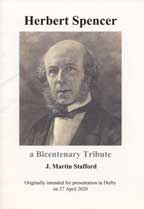 Herbert Spencer was born in Derby on 27 April 1820. He grew up to be one of Victorian England's most original thinkers and, as the author of twenty-one volumes, one of our most prolific philosophical and scientific writers. Though highly respected both at home and abroad in his lifetime, after his death Spencer became somewhat neglected and even disparaged. Martin Stafford highlights some of his achievements in epistemology and ethics and insists that his ideas are still worthy of serious study.
This lecture (intended to last about 45 minutes) was to be delivered in Derby on 27 April 2020, but this event was cancelled in response to the emergency arising from the spread of coronavirus. It is therefore made available in printed form.
Appended is a note originally published in Notes & Queries, September 2009, correcting the misidentification of W. H. Hudson (Spencer's secretary in the 1880s) and challenging the serious misrepresentation of his relationship with Spencer perpetrated in the book by Mark Francis: Herbert Spencer and the Invention of Modern Life.
28 pages, paperback, format A5
ISBN 978-0-9512594-8-1