J. Martin Stafford (Ed.): Private Vices, Publick Benefits?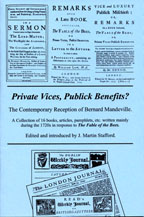 Price GBP £52-50
Private Vices, Publick Benefits?
The Contemporary Reception of Bernard Mandeville
A Collection of 16 books, articles, pamphlets, etc. written mainly
during the 1720's in response to The Fable of the Bees
Edited and introduced by J. Martin Stafford
xxiv + 639 royal 8vo pages; sewn and bound in buckram
ISBN 0-9512594-5-8
Few books have provoked such an outcry as the 1723 edition of The Fable of the Bees. Shortly after its publication, it was presented by the Grand Jury and denounced in a sermon preached before the Lord Mayor of London. (This was published as a fourpenny pamphlet unknown to F. B. Kaye, who prepared the standard edition of the Fable in the early 1920s.) The first four months of 1724 saw the publication of three more substantial works, by William Law, Richard Fiddes, and John Dennis. Within a decade there had appeared more than a dozen articles, pamphlets, and longer books, most of which were printed only once and are therefore scarce and inaccessible. This volume brings together for the first time all the major works and many of the less important ones published between 1723 and 1732. Mandeville's Vindication and A Letter to Dion (his reply to Bishop Berkeley) are also included, as are important pieces by David Hume and Adam Smith. They range in length from newspaper articles to George Bluet's Enquiry, which is almost 65,000 words long. The texts are reset but not modernized, with facsimiles of original title pages. Twelve of the sixteen items are preceded by an editorial introduction. There is also a general introduction, which outlines the main issues and suggests that the criticism to which the Fable was subjected prompted Mandeville to shift from a conspiratorial account of the establishment of society and the origin of morality to the evolutionary account which he later expounded in Part II of the Fable. Numerous footnotes provide further commentary, explications of uncommon words and obscure allusions, and translations of all phrases and quotations in foreign languages.
Contents:
Preface & General Introduction

Bernard Mandeville: A Vindication of the Book...1723.


Robert Burrow: A sermon preached before the Lord Mayor of London, September,1723 (not listed by Kaye).



William Law: Remarks upon a Late Book Entituled the Fable of the Bees. 1724.

Richard Fiddes: Preface to A General Treatise of Morality … in answer to two Essays lately published in the Fable of the Bees. 1724

John Dennis: Vice and Luxury Publick Mischiefs: or, Remarks on a Book intituled, the Fable of the Bees. 1724.

Article in The Weekly Journal or Saturday's Post, 8th August 1724.

George Bluett An Enquiry whether a General Practice of Virtue tends to the Wealth or Poverty, Benefit or Disadvantage of a People? In which the Pleas offered by the author of the Fable of the Bees are considered. 1725.
Francis Hutcheson: Three letters to the Dublin Weekly Journal, February 1726.

John Thorold: A Short Examination of the Notions Advanc'd in…the Fable of the Bees. 1726.
The True Meaning of the Fable of the Bees; …in a letter to [Bluet]; Shewing that he has manifestly mistaken the true meaning. 1726

Three Letters to The London Journal, June, 1729

Article in Read's Weekly Journal 27th March, 1731.

George Berkeley: Alciphron, Dialogue II 1732

Bernard Mandeville: A Letter to Dion. 1732. (A reply to Berkeley and Mandeville's last book).


David Hume: 'Of Benevolence and Self Love' (1751) and 'Of Luxury' (1752)

Adam Smith: 'Of Licentious Systems' (Part VII, Sect. II, Chap. IV of The Theory of Moral Sentiments 1759.)

Index
Reviews
...promises to be one of the most important contributions to Mandeville studies in recent years. ...ought to be available in any library where eighteenth century studies are pursued, and every serious scholar of Mandeville and his cultural context would do well to acquire his or her own personal copy.
Irwin Primer (Rutgers University)
...must become a standard work of reference for any serious student of the development and radical secularization of ethical theory in the eighteenth century.
New Humanist
...exquisitely produced. I am so impressed that I cannot resist ordering a copy for myself.
Thomas Mautner (Australian National University)
Stafford has done a great service in bringing this collection together, for scholars would be hard-pressed to find such a complete and cost-effective companion to the Fable of the Bees.
History of Political Thought
Stafford's collection...will emerge as a reference-shelf standard. It is the perfect solution for scholars concerned with early eighteenth-century social, economic, religious, and ethical controversy who cannot easily consult large, centralized research libraries. A Baedeker for those with a Mandevillian bee in their bonnets, Stafford's bulging book is the greatest guide we will ever have to Augustan England's most notorious yet most misunderstood and most under-appreciated author.
Kevin L. Cope (Louisiana State University, editor of 1650-1850)
Corrigenda
A list of errors in the text found since publication, together with corrections, is available in
Corrigenda1806.pdf
. In order to view the file you will need to have the Adobe Reader software installed on your PC. Adobe Reader may be downloaded free from Adobe's web site
www.adobe.com
.