J. Martin Stafford: Ched Evans Vindicated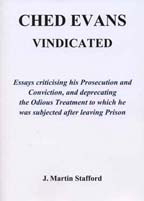 Price GBP £5-00
In April 2012, Sheffield United and Welsh International footballer Ched Evans was wrongly convicted of rape on the most tenuous and controversial evidence. He served 2½ years of a five year sentence. He consistently maintained his innocence. After four long years, his conviction was overturned, and at a retrial in October 2016 he was speedily and unanimously acquitted. This book argues that:
· He should not have been put on trial in the first instance.
· He should never have been convicted.
· In any event, on his release from prison, he should have been allowed promptly to resume his career.
Among other things, the author trenchantly criticises the Crown Prosecution Service, the first jury, and the Court of Appeal for their roles in this long-running miscarriage of justice; castigates the media for promoting a hostile climate of near-hysteria; reproves politicians for their unprincipled attitude, and Sheffield United FC for their shameful failure to honour their oft-repeated promise of reinstatement
[viii] + 62 pages, paperback, format A5